Coming soon.
Posts for tag: Skin graft
By contactus@dodgestreetfootdoc.com
February 02, 2019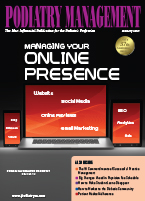 Drs. Matthew McCabe and Robert Greenhagen recently published on an innovative approach to healing lower extremity ulcerations. The recent publication was in Podiatry Management and is pending submission to the Journal of the American Podiatric Medical Association (JAPMA).

You can read the Podiatry Management article here (WARNING: Graphic surgical images are present in the article)